Lakeport Beach
Landlab specializes in innovative projects that re-introduce the tried and true principles of traditional community design. We only work in the best locati­on­s, so we took our time finding an extraordinary site for our next project. We found it in Alnwick/Haldimand. We are proud to present you with our ideas for Lakeport Beach and we look forward to getting input from the surrounding community. We trust that by working together we can build a sustainable, one-of-a-kind neighbourhood that will enrich the whole community socially, economically, and ecologically for many generations to come.
You can find information on our public consultation at the bottom of this page.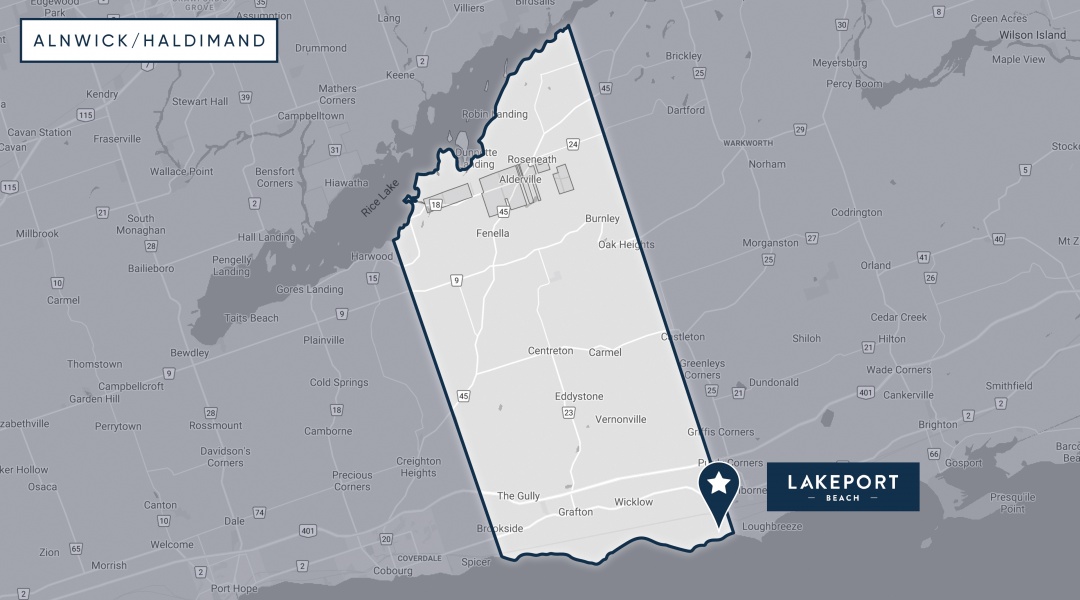 We work with municipalities to build places where people and their environment come first. We adapt our development plans to the piece of land, instead of imposing off-the-shelf zoning requirements on the land, and we place a high value on the preservation of nature and the creation of greenspace. By doing this we create places where people are naturally drawn to live, work and play. These are the types of places that are truly sustainable—they create a rich social fabric that enhances the lives of residents. In Lakeport, Ontario, we envision a new community modelled after our immensely popular Hendrick Farm project.
Watch the following video to learn more about Landlab's Lakeport Beach project.
a complete community
We have commissioned one of the world's most recognized urban planning firms, DPZ, to work with us to design a comprehensive plan for Lakeport Beach. In this plan, we intend to introduce a variety of components that we feel are necessary for a complete community.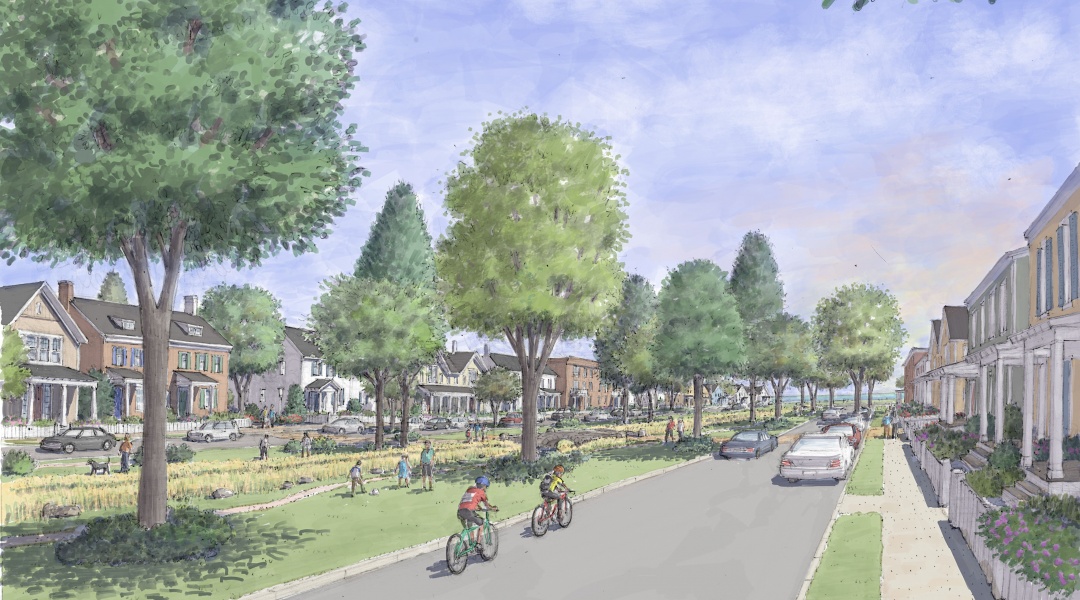 public beach
The new project site has over 1km of beautiful waterfront on Lake Ontario. While most developers would privatize the waterfront, we believe that it's important that the broader community, whether they live at Lakeport Beach or not, have access to this wonderful natural amenity. Ensuring the whole waterfront is a publicly accessible beach will be a key component of the community design.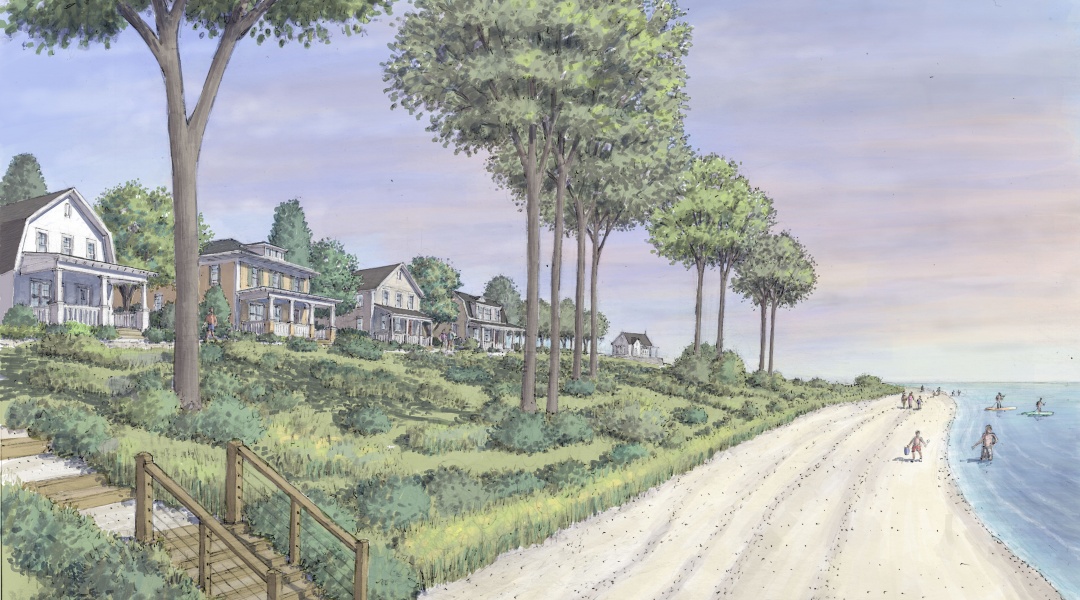 constraints
We choose to view constraints as opportunities to create something beautiful. Instead of hiding the drainage ditch that bisects the property, we think that a great plan would accentuate it and make it an important design feature. As a large, naturalized boulevard park, it could serve as the main artery for pedestrian and vehicular traffic from Lakeport Road down to the waterfront.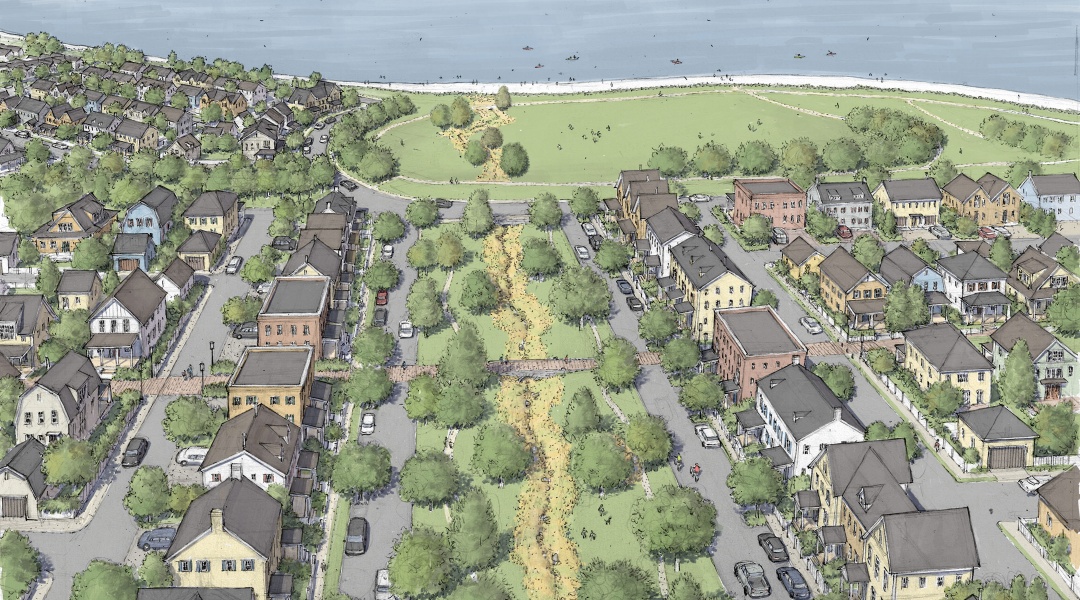 pocket parks
We feel that it's vital, in every project we design, that green spaces be dotted throughout the neighbourhood so all homeowners have easy access to nature close by. These pocket parks also make the pedestrian experience far more enjoyable.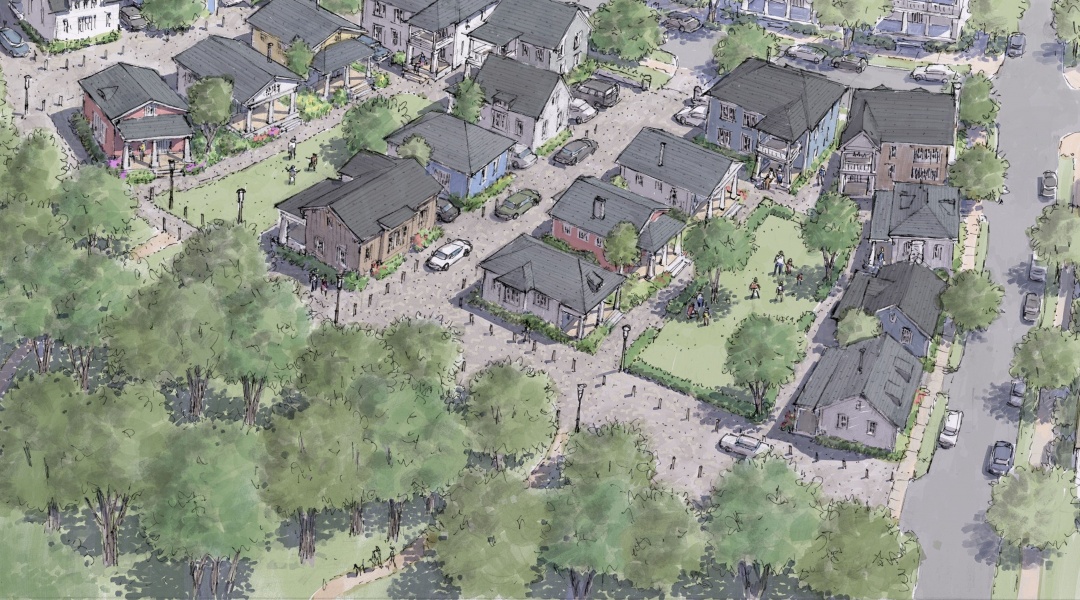 mix of houses
All our projects feature a range of housing types. We believe that healthy communities should include a broad range of ages and income groups. At Lakeport Beach we envision a mix of single family homes, townhomes, small cottages, and ground floor 1-storey units for older demographics.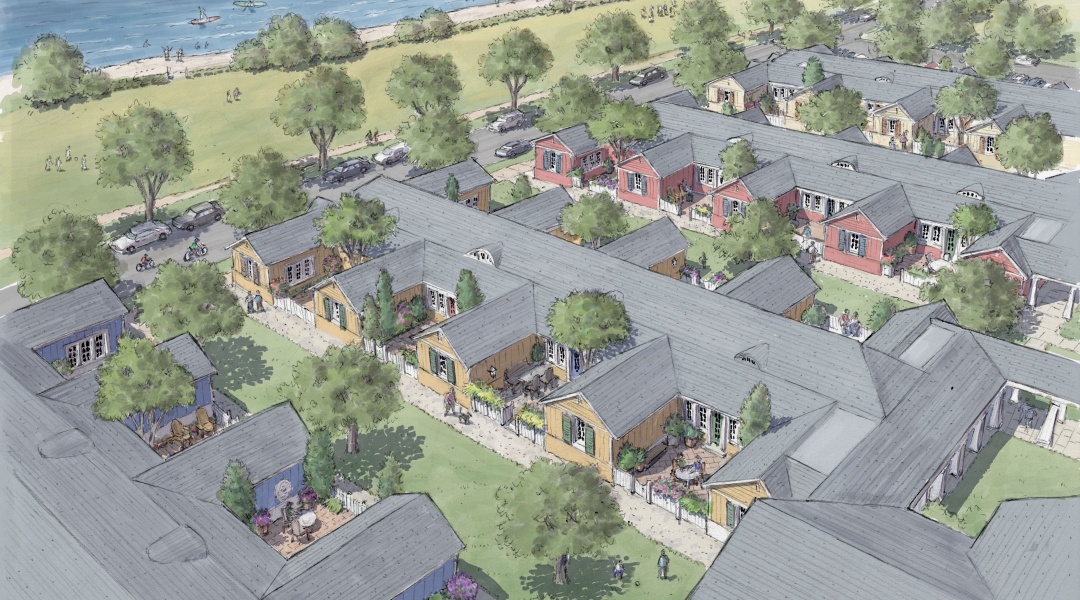 pedestrian networks
It's important to us that walkability and pedestrian networks are planned from the very beginning because they are critical to good community design. The Lakeport Beach plan should benefit from a mix of sidewalks, alleyways, footpaths, footbridges, and staircases/ramps to ensure pedestrians can easily access all areas of the neighbourhood.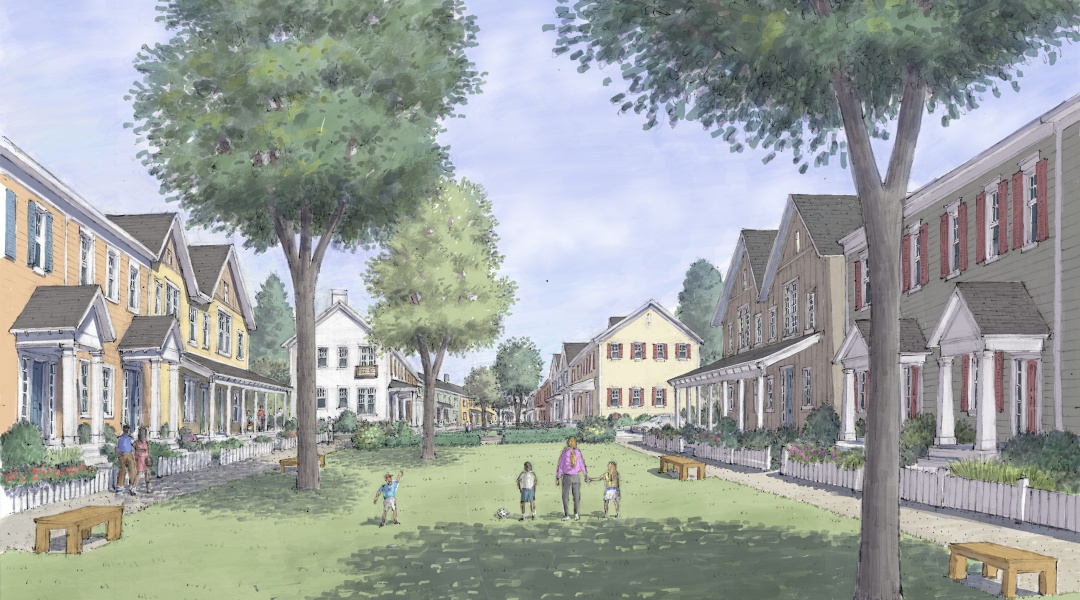 preservation of topography
One of our fundamental philosophies is to listen to the land. Rather than flattening a site, we prefer to work with the existing topography. This creates a much more organic and natural feeling in the neighbourhood. For example, there's a a ridge that runs along the western sector of the property. Rather than flattening it for easier construction, we would love to take advantage of its height. By designing a linear park at a higher elevation, you could end up with homes on both sides that are two storeys where facing the park, but three storeys from the street. Interesting design elements like this add texture to neighbourhoods.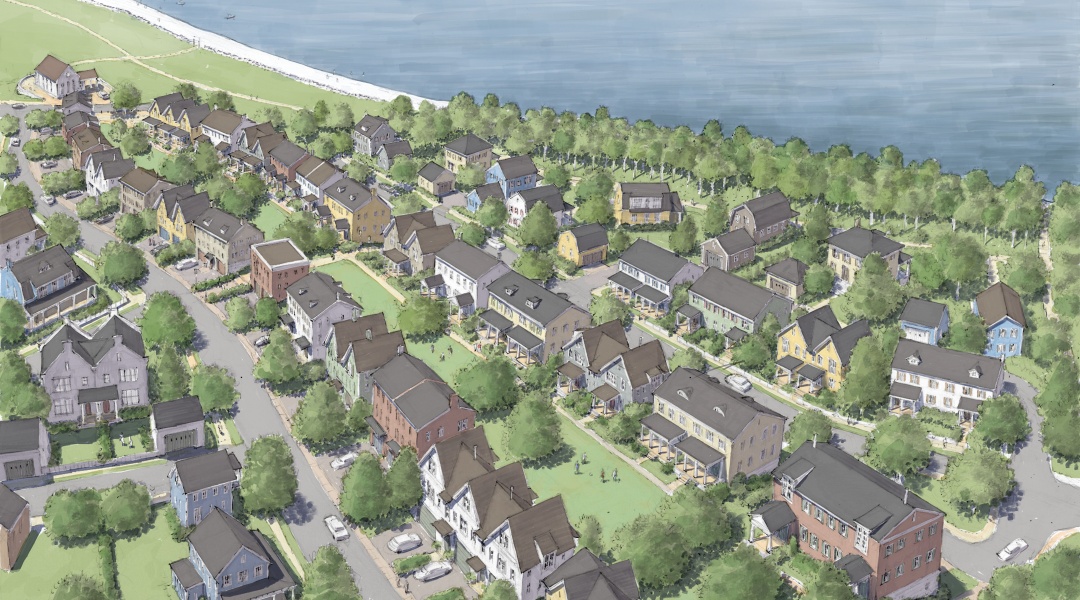 greenspaces
Our goal would be to keep approximately 40% of the land at Lakeport Beach as greenspace, whether it be forested areas, parks, or beaches. All of these green spaces would be open to the public. We feel that it's vital in every project we design, that the greater community is taken into account in the design of the neighbourhood. Everyone should be welcome to walk, play, sit in the parks, and enjoy the beach.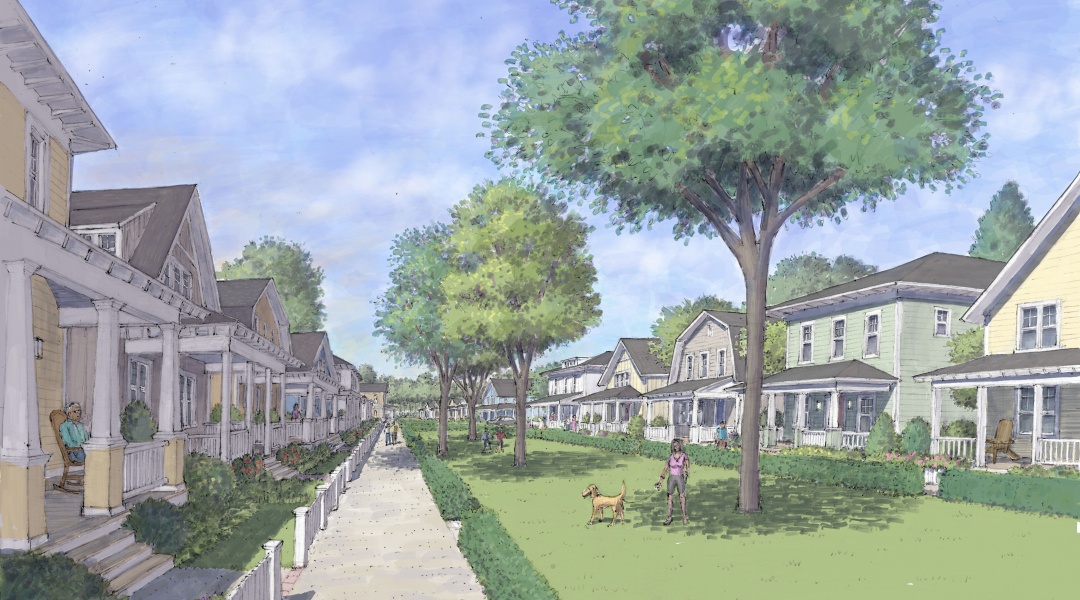 PUBLIC CONSULTATION
We have engaged a public consultation specialist to help collect information on what you want to see in this area and to listen to your concerns so that, when we are ready to submit a proposal to the Township, we can address as many of them as we can. We will be hosting a community roundtable meeting on June 16th at 7 PM. This meeting will be used as a chance for community members to raise questions or concerns. Community members can also provide comments or questions using the form below or can leave us a voicemail at 613-907-0130. Below you can review the consultation discussion guide and register for the community roundtable.
Following the consultation, we will be posting a Q&A document on this page with answers to all questions raised by the participants.
sign up to receive updates on this project